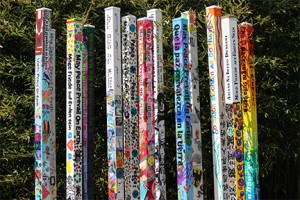 The Peace Pole Project at The World Peace Sanctuary has  been working with children making small Peace Poles for years. The time had come to have youngsters create full size Peace Poles of their own design. For the new project, Jim Dugan treated vinyl Peace Pole blanks so they could be painted and got together the other needed materials. Then with Jules Lamore, made overhead transparency sheets with "May Peace Prevail on Earth" in dozens of languages for the young artists to choose from.  The elements were assembled into a Peace Pole starter kit.
In the Spring of 2011, Jim met with a group of New York State art teachers when he brought a dozen of the Peace Pole kits to their regional conference. He left with an empty truck. Over the following school year these professional art educators worked with their students to create incredibly beautiful Peace Poles where no two looked even remotely alike. Over 350 young people had merged art and peace to create these very special Peace Poles which are now on display at The World Peace Sanctuary in Wassaic, NY.
The feedback from this initiative was so positive and overwhelming that we knew the project couldn't end there. Thus we created the Youth Art Peace Pole Project. Jim traveled to the national conferences of the United States Society for Education Through Art in Indianapolis, Indiana and the National Art Education Association in Fort Worth, Texas and enlisted the top art educators from each State in the USA to participate in the national launch of the Youth Art Peace Pole Project.
The rest of this website is devoted to what came next…