Willard students were proud to create a Peace Pole to share with the Missoula Community on International Peace Day in September.   The class chose the following countries to represent: France, Japan, USA, and China.   The top of the Peace Pole is a red bird holding a flower for peace.  The Peace Pole was the center of a Meditation Hill at Caras Park where Missoulians mediated throughout the day.  The Peace Pole now stands in our school and sometimes on the playground that is visited by neighbors.  Were were thankful for the opportunity to join other students across the country to celebrate peace. 
Savannah K. painted the side for France and used the Eiffel Tower to represent France and painted black and white stripes to represent mimes, which she associates with France and considers peaceful, in their quiet expression.
Ty B. painted a side for China.  He states, " In the making of this project, the goal was to display diversity and peace in different languages, which was awesome because we got to look into the different cultures of the languages we were displaying.  This project provided art for the community.  We had a meditation circle around the Peace Pole and invited the community to attend. "
Cody F. and Abby H. were some of the students that worked on the USA side.  They said that they kept it simple with red, white and blue painted spots, strips and lettering.
Sara R. and her group worked on the Japanese side and chose to fill it with the joyful imprints of hands painted with many colors.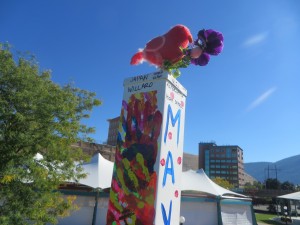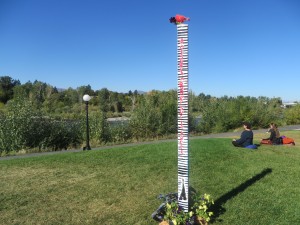 The Youth Art Peace Pole Project deeply thanks Gwen Hoppe, Art Teacher at Willard Alternative High School Program, and all her students who brought the Montana Youth Art Peace Pole to fruition.