Cynthia Bickley-Green, PhD, Professor Art Education and Coordinator of the Art Education Area at East Carolina University School of Art and Design in Greenville, North Carolina wrote: We finished our Peace Pole and displayed it in a closing exhibition our K-12 Art Camp in the School of Art and Design at East Carolina University. Although the Peace Pole will  be on view here at the University, we have tentative plans to hold a ceremony on September 21 at the Shepard Memorial Library. The library will temporarily display the Peace Pole in the youth reading room and create a program on peace for a month or more. The library has a Peace Garden.
Campers, parents, and faculty enjoyed working on the Peace Pole so much that we are currently planning to create more durable Peace Pole to be placed in the Peace Garden at the Shepard Memorial Library.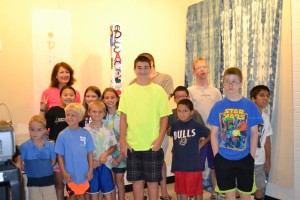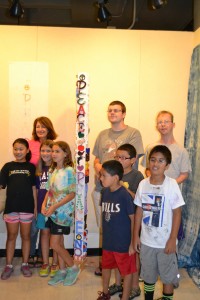 Approximately 24 campers planned and created this Peace Pole.